...In one sitting. I know this is something people usually do on tumblr and/or draw stuff for... but to be totally honest I am to lazy and don't have the time to do that.. so I am going to do it here in a journal. I am just really getting back into the CLAMP fandoms so I thought this would be a good time to do this. So here goes... Enjoy this sped up 30 day challenge...
Day 1. Favorite Male Character-
Kurogane
Yup I love him so much. My love for him has actually grew a lot as I have been looking up more stuff for him and been collecting the manga. I just recently realized just how loving and strong a character he really is. Especially for Fai!

He protects everyone, no matter what it takes. Whether it's becoming a food source, or cutting off an arm. He cares about the kids happiness as well even though he doesn't show it. I don't know he is just really sweet. And lets not forget hot.
Day 2. Favorite Female Character-
Sakura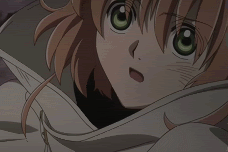 Again a really strong and loving character. I like her in both Card Captors and Tsubasa, but Tsubasa wins over CCS. She is sooo cute. I admire the way she always wants to help and stays so strong. Not to mention her bravery. I think I also like her because I see some of her features in me. At least I am told I am a lot like her. Either that or I want to be like her. Anyways she is my favorite.
Day 3. Favorite Mascot Character(Ex. Mokona, Kero...)
Mokona
Hands down White Mokona. I like Tsubasa Mokona more than XxX Holic Mokona for one simple reason... he doesn't drink as much. Okay that's not the only reason. I also find that this Mokona has more power than the other Mokona. She(I believe it's a she) can travel through time and space. It can track Sakura's feathers through all the dimensions. Well most of the time. And lets not forget her 107(I think) secret techniques. I just love Mokona. Wow only three days and all are Tsubasa characters...
Day 4. Favorite Member of CLAMP
All of them
I couldn't pick just one. I love all aspects of CLAMP. I love how they work together and create great works. The art is beautiful, the stories are always well done, and the characters you can't help but love. They also know how to make their readers feel emotions, like happiness, sadness...and everyone has had that moment of "What the hell CLAMP!?". They all are amazing.
Day 5. Your First CLAMP fandom
Tsubasa Chronicles
That's pretty self explanitory. I think anyone who has read my journals before know this. It was also one of my first manga, so it holds a lot for me. It caught me with the characters and the rest is hitsuzen.(that's right I said hitsuzen).
Day 6. Your Current CLAMP Fandom
X 1999
I would have to say X 1999 because it is the one I am currently watching. Though my CLAMP fandom is always jumping around. It's also kind of Tokyo Babylon but since Subaru and Seishiro show up in X 1999 too I am just going to go with X 1999.
Day 7. Favorite Couple
KuroFai
I will stop with the Tsubasa some time. This is actually a loaded question because I love a lot of pairings from the CLAMP universe. These two just stick with me. They always come to my mind first. DouWata comes second. If you want my fave straight pairing that would be Sorata/Arashi. SO fucking cute! Anyways KuroFai. They are so tragic(I know not the most tragic but just bare with me). But I love how in the end they aren't torn apart... don't want to speak to soon there. Their love prevails. And another reason why Kurogane is my favorite he gives so much of himself... literally for Fai. Just my fave.
Day 8. Pairing You Don't Really Care For
Himawari/Watanuki
Finally not a Tsubasa one(though it was a toss up between them and Tomoyo/Kurogane). Okay I know they don't get together in the end so yay, and it is so clearly Doumeki who is Watanuki's one true love. The reason I dislike this pairing so much is the fact that she is so dangerous to Watanuki. I also don't care for Himawari as a character. There is just not that CLAMP spark that would make them a good pairing.
Day 9. Favorite Homoerotic Subtext
Kazahaya/Rikuo
Sorry for the big post here but this...this is my favorite homoerotic sub-but totally implied-text. Fricken beautiful. Excuse my excitement here. I just love this moment so much. It is one of my favorite series by CLAMP. For anyone who doesn't know this is the moment when Kazahaya is craving chocolate because Rikuo's sweet tooth transferred over to him for a moment.
Day 10. Least Favorite Male Character
Dr Kyle
Let me just say that this was a really hard question because even the bad characters I end up loving. I don't even know. He is the only one who came to mind. Maybe it's because he's not overly important and kind of a jerk.
Day 11. Least Favorite Female Character
Tomoyo
Okay so hear me out because there are things about her I do like but when it comes down to it there is just something in her I do not like(probably her implied relationship with Kurogane). It was her or Himawari, and she kind of wins because my emotions are much more fierce towards her. I like her in Card Captors because all those outfits, so cool. In Tsubasa just no.
Day 12. Series You Haven't Read Or Watched That You Would Like To
Miyuki-chan In Wonderland
This is not the only one. I have three others I would like to read. There is also Suki, The One I Love, and The Legend of Chun Yan. Those are the others. I wish they weren't so hard to find.
Day 13. Favorite CLAMP Crossover
Tsubasa/XxXHolic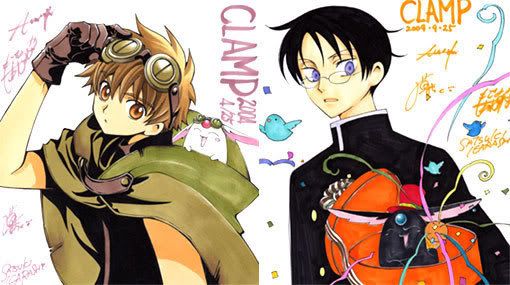 Again sorry for a big post. But Tsubasa and Holic is my fave. I am not sure if it counts because they were made to crossover but it was so well done. It is also the biggest crossover. I just like how the work together.
Day 14. Crossover You Would Like To See
Rg Veda
I would love to see the characters of RG Veda again. I don't really have any idea of what to crossover it with but I would like to see them in some crossover. I know Tsubasa did a good job of it, don't get me wrong, I just want to see more Ryuu mostly.
Day 15. Favorite Quote
"Nothing in this world is coincidence, Everything is hitsuzen." Yuko Ichihara, XxX Holic, CLAMP.
Day 16. Favorite Anime Adaptation
XxX Holic
I like the XxX Holic adaptation the best out of the few I have seen. It actually sticks, for the most part, to the manga. They actually finish the story with the ova's. Unlike some anime adaptations... I will get to that. Not to mention the voice acting is really well cast, Todd Haberkorn anyone.
Day 17. Least Favorite Anime Adaptation
Tsubasa
Bet you didn't see that coming. Now let me make something clear, I like the anime, where they get it right. I even like some of the fillers but when you don't finish it properly ...or at all, then give me ova's and cut out the best most important worlds (Infinity, Celes) you have an unhappy CLAMPer (see what I did there). Also if you noticed the picture I posted above, this is the second reason I don't like the anime. Fricken Chaos Arc. So pointless and pretty inaccurate. Not to mention it happens right after Recort country which is when they should be going to Tokyo, like in the ova's. Grrr! Thank you for listening.
Day 18. Favorite Overall Series
Tsubasa
Pretty obvious.
Day 19. Scene That Made You Laugh
Basically the whole alias thing in Oto Country. I loved that country all together. I wanted to use the Ground Cherry moment from XxX Holic but I couldn't find the right moment.
Here it is.
Day 20. Scene That Made You Cry
I believe this is the moment that Doumeki gives Watanuki a wedding invitation to his wedding to Kohane. It is so fricken sad.

Day 21. Favorite CLAMP Related Cosplay
I generally like Yuko cosplays
(This is Yaya Han)
Day 22. Character You Would Like To Cosplay
Sakura
Day 23. Favorite Theme Song
Synchronicity by Yui Makino
Day 24. Favorite Piece Of Fanart
I hate to say but I don't know the artist but I love this fanart
Day 25. Favorite Set Of Siblings/Clones
Touya/Sakura
They are the few set of siblings who are real siblings. They just interact like real siblings too. Also Touya doesn't get enough appreciation I feel.
Day 26. Favorite Secondary Character
Ryuu
So energetic and up beat. If I remember him correctly. I know him best from Tsubasa's Oto Country. I also love that giant sword he's got...that's not an innuendo. I just remembered Masayoshi
. He is another fave.
Day 27. Favorite Friendship
Clamp School Detectives
These three are so goofy and cute together. I especially like the friendship between Suoh and Nokoru, even though lets be honest they are totally a couple. I just finished rereading this series and they are adorable.
Day 28. What Character Are You Most Like
Sakura
Or so I am told. I do see it in some aspects. We are both good cooks, usually pretty happy. We care about our friends a lot. I would say we both know how to stay strong, though I think she is probably braver than I.
Day 29. If You Could Be Any Character For A Day Who Would You Be
Mokona Modoki
I would actually love to be Mokona for a day. Get to travel to different worlds, hangout with Fai, Kurogane, Syaoran and Sakura. I wouldn't mind to be the other Mokona too . Get to cheer Watanuki up some. If I had to be a more human character I would be
Kazahaya
. I think it would be fun to hangout with Rikuo and Kakai and Saiga. I am also curious as to how Kazahaya's powers work.
Day 30. Rant About Your Favorite Incomplete Series
I actually don't have one. All the ones I could have talked about have restarted. Though I have a feeling when I finish X I will have a lot to say about that.
Thank you for sticking with me and I hope you enjoyed it. I will try to get back to my fanfic challenge. Bye.